myOrigins® Version 3.0 was released on September 22, 2020. Most customers have received their updated results.
To see if you've received your myOrigins® 3.0 results, go to your myOrigins® page:
On the myOrigins® sidebar (on the left of the page), Version 3 is displayed in the heading when your results have been updated.

If your kit displays Version 2, your results will be ready soon. In the "updates" section (upper-left corner) of your dashboard, you will see a note that states when your Version 3 results will be ready. You will also receive an email once your results are updated.
Who are you?
That's a question with many possible answers. You are the sum of a lifetime of experiences. You are the result of the choices you have made. You are the result of truths your parents instilled in you. You are the outcome of values drawn from your culture.
From a genetic perspective, however, you are the outcome of a long process of genealogical fusion. A man and a woman coming together, one of the millions on a vast constellation that explodes out across the earth and coalesces back to a few ancient progenitors.
The personal tree of life continues through you.
How can you summarize the shape of this tree and all of its branches? There is no one way.
myOrigins® attempts to reduce the wild complexity of your genealogy to the major historical-genetic themes that arc through the life of our species since its emergence 100,000 years ago on the plains of Africa. Each of our 90 Population clusters describes a vivid and critical color on the palette from which history has drawn the brushstrokes that form the complexity that is your own genome. Though we are all different and distinct, we are also drawn from the same fundamental elements.
The explanatory narratives that are displayed for each of your Population Clusters on your myOrigins® page attempt to shed some detailed light upon each of the threads that we have highlighted in your genetic code. Though the discrete elements are common to all humans, the weight you give to each element is unique to you. Therefore, each individual receives a narrative fabric tailored to their own personal history, a story stitched together from bits of DNA.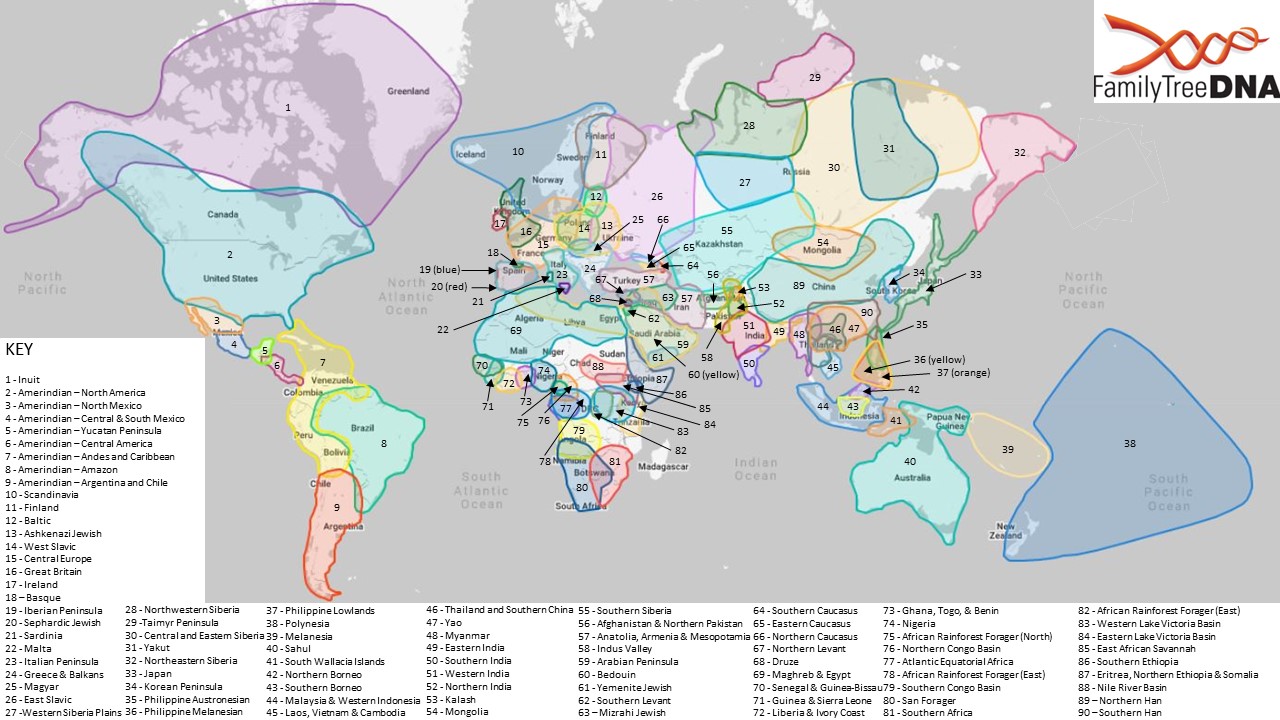 Continent-level Populations, Super Populations, and Population Clusters
On your myOrigins® (version 3), your Population Clusters are grouped by Super Populations per Continent-level Population, and your results will be displayed in a hierarchical structure as follows:
Continental Region - The main region of the world in which one or more Super Populations are located.

Super Population - The region in which one or more Population Clusters are found. A Super Population may also illustrate a relatedness among the Population Clusters found in this region.

Please note that for certain populations the name of the Super Population might match the name of the Continent-level Population
Population Cluster - A FamilyTreeDNA reference population to which a user matches. A Population Cluster can be one specific group or a few related but separate groups of people.
The following lists our Super Populations for each Continent-level Population, and then our Population Clusters per Super Population.
Africa
Central Africa
Central Africa contains the following Population Clusters:
Atlantic Equatorial Africa
Northern Congo Basin
Southern Congo Basin
East Africa
East Africa contains the following Population Clusters:
Eastern Lake Victoria Basin
Western Lake Victoria Basin
Eastern Sahel
Eastern Sahel contains the following Population Clusters:
East African Savannah
Nile River Basin
Horn of Africa
Horn of Africa contains the following Population Clusters:
Eritrea, Northern Ethiopia & Somalia
Southern Ethiopia
Rainforest Forager
Rainforest Forager contains the following Population Clusters:
African Rainforest Forager (East)
African Rainforest Forager (West)
African Rainforest Forager (North)
San
San contains the following Population Cluster:
South Africa
South Africa contains the following Population Cluster:
West Africa
West Africa contains the following Population Clusters:
Ghana, Togo & Benin
Guinea & Sierra Leone
Liberia & Ivory Coast
Nigeria
Senegal, Gambia & Guinea-Bissau
Americas
Americas
Americas contains the following Population Clusters:
Amerindian – Amazon
Amerindian – Andes & Caribbean
Amerindian – Argentina & Chile
Amerindian – Central & South Mexico
Amerindian – Central America
Amerindian – North America
Amerindian – North Mexico
Amerindian – Yucatan Peninsula
Arctic
Arctic
Arctic contains the following Population Clusters:
Inuit
Northeastern Siberia
Asia
Central Asia
Central Asia contains the following Population Clusters:
Mongolia
Southern Siberia
Central Siberia
Central Siberia contains the following Population Clusters:
Central & Eastern Siberia
Taimyr Peninsula
Yakut
Indian Subcontinent
Indian Subcontinent contains the following Population Clusters:
Eastern India
Northern India
Southern India
Western India
Island Southeast Asia
Island Southeast Asia contains the following Population Clusters:
Malaysia & Western Indonesia
Northern Borneo
Philippine Lowlands
South Wallacea Islands
Southern Borneo
Kalash
Kalash contains the following Population Cluster:
Myanmar
Myanmar contains the following Population Cluster:
Northeast Asia
Northeast Asia contains the following Population Clusters:
Japan
Korean Peninsula
Northern Han
Philippine Indigenous
Philippine Indigenous contains the following Population Clusters:
Philippine Austronesian
Philippine Melanesian
Southeast Asia
Southeast Asia contains the following Population Clusters:
Laos, Vietnam & Cambodia
Southern Han
Thailand and Southern China
Yao
West Central Asia
West Central Asia contains the following Population Clusters:
Afghanistan & Northern Pakistan
Indus Valley
Western Siberia
Western Siberia contains the following Population Clusters:
Northwestern Siberia
Western Siberian Plains
Europe
Baltic
Baltic contains the following Population Clusters:
Eastern Europe
Eastern Europe contains the following Population Clusters:
East Slavic
Magyar
West Slavic
European Jewish
European Jewish contains the following Population Cluster:
Finnish
Finnish contains the following Population Cluster:
Southern Europe
Southern Europe contains the following Population Clusters:
Basque
Greece & Balkans
Iberian Peninsula
Italian Peninsula
Malta
Sardinia
Western Europe
Western Europe contains the following Population Clusters:
Central Europe
England, Wales, and Scotland
Ireland
Scandinavia
Middle East & North Africa
Arabia
Arabia contains the following Population Clusters:
Arabian Peninsula
Yemenite Jewish
Caucasus
Caucasus contains the following Population Clusters:
Eastern Caucasus
Northern Caucasus
Southern Caucasus
Middle East
Middle East contains the following Population Clusters:
Druze
Mesopotamia & Anatolia
Northern Levant
Sephardic Jewish
Southern Levant
Middle East Jewish
Middle East Jewish contains the following Population Cluster:
North Africa
North Africa contains the following Population Clusters:
Oceanic
Polynesian
Polynesian contains the following Population Cluster:
Sahul
Sahul contains the following Population Clusters: